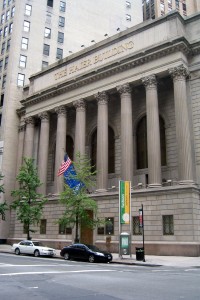 Quickbooks allows users to connect their bank account(s) in just a few easy steps. What's the purpose of doing this you ask? Well, with your bank account connected to Quickbooks, you can automatically download a list of all of your transactions. Instead of manually entering each and every transaction into Quickbooks, for instance, you can simply download the transactions from your bank account. Today we're going to walk you through the process of connecting a bank account to Quickbooks.
To connect a bank account to Quickbooks, fire up your Quickbooks software and choose "Connect an Account" under the "Bank Accounts" menu on the Homepage. You will then see a new screen asking you for information associated with your bank account. Don't worry, it's completely safe and secure to enter your banking information in Quickbooks. In the "Import transactions from your bank or credit card" field, enter the URL of your online banking account. To the right of this field, you'll need to enter the username and password associated with this account.
Assuming you entered the correct login URL, username and password for your online banking account, Quickbooks will reveal a list all of the accounts associated with the bank. If you only have a single account, you'll see a single account listed. But if you have several banking accounts, you will see all of them listed. Select the account that you wish to use in conjunction with Quickbooks and specify whether it is a checking, savings, money market, credit card, or trust account.
Once connected, you will see all of the accounts you have at this bank. Choose the account you use for your business and tell QuickBooks what kind of accounts they are. Quickbooks will then pull all of the transactions that were made from the account within the past 90 days.

On the next page, click Category or Match column to begin sorting the transactions made from the past 90 days. If you wish to place a transaction in a separate window, you can do so by opening the transaction menu and selecting the appropriate one. For new transactions, simply click "Add" on the right-side of the page to add the new transaction.

Did this tutorial work for you? Let us know in the comments section below!