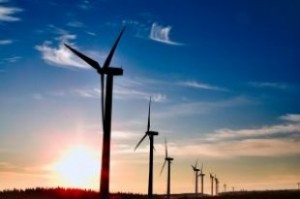 Quickbooks maker Intuit is reportedly using wind turbines to power its offices.
In a recent statement to the press, a spokesperson for Intuit said it was in the process of transitioning its Plano, Texas campus to wind power in an effort to curb greenhouse gas emissions and promote greater energy efficiency.
The Plano, Texas campus is one of the company's largest facilities, with roughly 500 workers whom perform services for Intuit's Accountant and Advisor Group — a branch that offers products and services designed that are tailored towards accountants. Because it's one of the company's largest facilities, it also uses a significant amount of energy, which is something that Intuit hopes to change by making the transition to wind turbines.
As of October 1, 2015, Intuit's Plano, Texas campus is now powered 100% by wind energy. Wind energy is produced via turbines (see image above) that spin when exposed to wind. As the turbines spin, they create, and store, power that is then transferred through the power grid before ending up at Intuit's campus.
So, what drove Intuit to transition its Plano, Texas campus to wind energy? According to the company's senior sustainability program manager, nearly 40% of Intuit's carbon footprint comes from electricity. Intuit had previous set a goal of achieving a reduced "absolute" carbon footprint by 20% by 2020. To help turn this vision into a reality, it transitioned its Plano, Texas facility from standard coal power to wind power.
"Electricity usage accounts for almost 40 percent of Intuit's overall carbon footprint," said Sean Kinghorn, Intuit's senior sustainability program manager. "We have set a goal of reducing our absolute carbon footprint by 20 percent by 2020 with a baseline year of 2012. RPD's ability to creatively supply our Texas campus with 100 percent clean power will significantly reduce our company's carbon footprint and is one of several steps that we are taking to increase our use of on-site and off-site renewable energy."
Of course, this is just one step Intuit has taken towards achieving its goal of a reduced carbon footprint. It's safe to assume that the popular software maker will continue to emphasize the importance of clean, renewable energy in the months to come. Who knows, we may see other companies follow in Intuit's footsteps by implementing energy-efficient practices of their own?