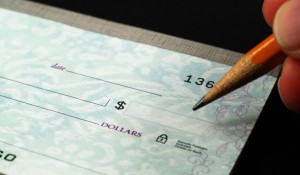 There's a reason why Quickbooks is the world's #1 accounting software for small businesses: because it's versatile and easy enough for anyone to use, regardless of whether or not you have professional accounting experience. But many users wonder if there's an option to print multiple checks within Quickbooks. There IS an option to print multiple checks, although it's somewhat hidden. If you are struggling to print multiple checks within Quickbooks, keep reading for a step-by-step walkthrough.
To reprint multiple checks, fire up your Quickbooks software and access the Banking menu at the top of the screen. This is your "go-to" menu for all banking-related tasks. Whether you need to print a single check or several, tasks such as these are typically done from the Banking menu. After accessing the Baking menu, choose "Use Register," at which point you should see a drop-down menu with all of your bank accounts listed. Scroll through the list and choose the bank account associated with the check that you wish to reprint. Click "OK" to pull you the register for the selected bank account.
With the bank account register viewable, find and select the check that you wish to reprint. We've talked about this before on the MyVao.com blog, but it's worth mentioning again that pressing the letter "T" will change the number of a check to "Print." So if you haven't done so already, go ahead and press "T" on your keyboard after selecting the appropriate check.
Next, click the "Record" option at the bottom right corner of the register, followed by "Yes" when prompted to record the changes. Assuming you followed the steps mentioned above, the check should now be visible in the "Print Queue." You may then access File > Print Forms > Print Checks > choose the checks and click "OK." Lastly, verify it's the correct check and the printer and click "Print. Sorry if you were expecting more, but that's all it takes to print multiple check in Quickbooks!
Of course, you can reprint single checks in just a few easy steps as well. This is done by accessing Banking > Write Checks > click the "Find" button > search for the check that you wish to reprint > double-click the check > and click "Print.
Did this tutorial work for you? Let us know in the comments section below!