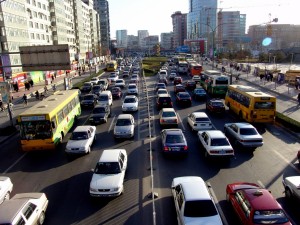 We've talked about the boom of cloud computing before on our blog, but it was usually in the context of U.S.-based firms who've since embraced the technology. Now, it appears that China is stepping up its efforts to leverage the power of cloud computing.
According to a report published by the Chinese media agency China Times, China will invest an unknown sum to develop an industry chain of cloud computing systems. The project, which is being led by the National Development and Reform Commission (NDRC), will begin in 2016 and is expected to be complete by 2020.
But this isn't only one step in a larger, broader goal of creating a cloud-based networked system in China. Chen Wei of the country's Ministry of Industry and Information Technology said China is currently working on its 13th 5-year cloud-computing project.
So, how does China plan to build such a massive cloud-based system? Reports suggest that it will fund leading tech companies, encouraging them to further develop and expand their cloud computing technologies. By funding leading tech companies, China hopes to create a more dynamic and streamlined system of cloud computing technology.
Cloud computing has become a hot topic as of late, with both governments and private companies bolstering their efforts to utilize this efficient system. There are several key advantages to using cloud computing, including less maintenance, reduced startup costs, greater efficiency of resource usage, and ease of expansion. Of course, these are just a few of the many reasons why so many organizations are investing heavily into cloud computing.
A recent U.S.-China Economic and Security Review Commission report suggests that China is developing cloud technology for three main purposes: to expand its military capabilities, to provide greater IT resources to consumers, and to create an internationally competitive service industry.
"In recent years the Chinese government has prioritized the development of cloud computing technology with the twin goals of expanding Chinese military and civilian access to cloud computing information technology (IT) resources and creating an internationally competitive Chinese cloud computing service industry. As part of a larger development strategy for advancing Chinese software and information technology services, the Chinese government plans to make more than one billion dollars (USD) available over the next few years to drive cloud computing development," stated the U.S.-China Economic and Security Review Commission report.
What are your thoughts on China's plan to develop greater cloud based systems? Let us know in the comments section below!