Quickbooks maker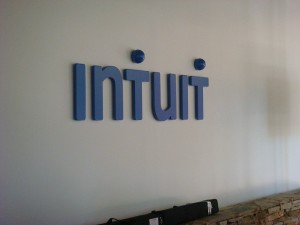 Intuit has launched a new product for on-demand workers.
Intuit's "Workforce" is designed to help companies recruit, manage and optimize on-demand workers. According to a press release published by Alex Chriss, the country's on-demand workforce is expected to grow to 11%. With so many new people entering this type of work, it only makes sense for Intuit to capitalize on the trend by launching a new product.
"The rapid growth of the on-demand economy is reshaping the U.S. labor market, with on-demand workers expected to grow to 11 percent of the nation's 66 million U.S. independent contractors," said Alex Chriss, vice president and general manager of Self-Employed Solutions at Intuit. "This massive growth brings new complexity in worker management, payments and tax distribution. QuickBooks Self-Employed and our new Intuit Workforce work together to make it easier for both workers and companies to collaborate, share data and efficiently meet their respective compliance requirements."
So, how exactly does Workforce work? Being that Intuit just recently announced the product, we still don't have the full details. However, the company's press release provides an overview of Workforce. The product will offer an API which companies can use to accept, export and modify data, in addition to communicating through email and instant messaging. Workforce is also designed to assist companies with running background checks, create training courses, and handle the legwork associated with legal paperwork.
I guess you could say that Workforce is kind of like the Swiss Army Knife for companies that hire on-demand workers. From managing workers to payroll, communication, training and more, it does it all.
Of course, Workforce isn't meant to be used in place of Quickbooks. While Workforce is more than capable of handling the aforementioned tasks listed above,  it lacks the versatility and accounting power of Quickbooks. Intuit recommends that on-demand workers use Quickbooks Self-Employed, which is designed specifically to handle the otherwise complicated accounting for self-employed workers.
So, how much does Intuit Workforce cost? You might be surprised to learn that it's being offered for free, with no strings attached. If you own and/or operate a company that manages on-demand workers, you should take advantage of Intuit's latest product by downloading Workforce once the software is released.