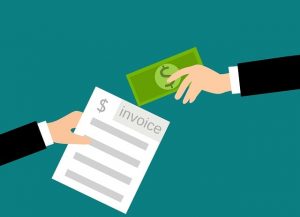 Do you use QuickBooks to generate and send invoices to your business's customers?  With QuickBooks Payments, you don't have to use a separate invoicing service; you can generate invoices directly from QuickBooks Online or QuickBooks Desktop.
Upon receiving an invoice, the customer can elect to pay it online. There should be a "Pay invoice" button. Clicking this button will take the customer to the payment screen where he or she can pay the invoice. QuickBooks Payments supports credit card, debit card and Automated Clearing House (ACH) payments. There are certain problems, however, that may prevent customers from paying the invoice.
Missing Button
The invoice may not feature the "Pay invoice" button, in which case the customer won't be able to pay it. This is typically the result of not using QuickBooks Payments. The "Pay invoice" button will only be displayed on the invoice if you use QuickBooks Payments.
You can create and send invoices without Payments QuickBooks. As long as you have QuickBooks Online or QuickBooks Desktop, you can take advantage of the invoicing feature. But customers will only be able to pay the invoices if you use QuickBooks Payments. If your business's customers don't see the "Pay invoice" button, you'll need to sign up for QuickBooks Payments.
Error When Making Payment
Customers may encounter an error message when attempting to make a payment. Depending on the particular type of error message, it may offer instructions on how to resolve it. Customers can follow the included instructions to fix the error and, thus, complete their payment.
Not all error messages will come with instructions. If there are no instructions, customers should attempt to clear their web browser's cache. Caches are temporary storage areas. Web browsers have a cache in which internet files are temporarily stored. In some cases, issues involving these temporary internet files may prevent customers from completing their payment with the invoice.
Declined Card
Another problem that may arise when customers attempt to pay the invoice is a declined card. This is typically the result of one of two things: the customer entered the wrong card information, or the payment amount exceeds the card's limit. Customers can fix these issues by entering the correct card information or using a different card with a higher limit.
Have anything else that you'd like to add? Let us know in the comments section below!