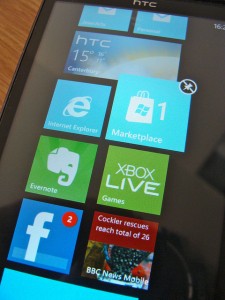 Intuit, maker of the popular Quickbooks accounting software, has discontinued its Mint app for Windows smartphones.
In case this is your first time hearing about Mint, let me give you a quick explanation of what it is and how it works. Originally launched in 2006 by Aaron Patzer, Mint is a free-to-use personal finance management service that's available in the U.S. and Canada. Using a single, convenient interface, it allows users to track bank transactions, credit card balances, investments, loans, and more. Intuit scooped up Mint for an undisclosed sum of money in 2009.
One of the perks of using Mint is its support for mobile operating systems, including Android and Apple iOS. While Mint was previously available for Windows phones, Intuit has since discontinued use for this OS. This begs the question: why is Intuit dropping Windows from its list of operating systems that support Mint?
The company issued a statement in which it explained its decision. According to the Mint team, they plan to focus their efforts on developing and enhancing the Mint experience for Web, iOS and Android (sorry Windows users!).
"We've promised to hold ourselves to the highest standard of quality in our products, and strongly believe that shifting our efforts to the Mint Web, iOS and Android applications will help us deliver above and beyond that promise," wrote the Mint team when announcing the news. "There's so much about the Windows Phone app that we love – and it's hard for us to say goodbye to it – but we are confident that this change will help you get even more out of Mint."
Of course, the decision to drop Windows from its supported operating systems makes sense considering the overwhelming popularity of Android and iOS. According to a recent report published in the International Data Corporation (IDC), Android's share of the mobile OS market grew to 82.8% in the second quarter of 2015. In comparison, Apple iOS grew to 13.9%, yet Windows dropped to just 2.6%. If Intuit wants to capture the greatest number of users for its Mint app, it should focus on Android and iOS for this very reason.
Do you think this was a smart move for Intuit? Let us know in the comments section below