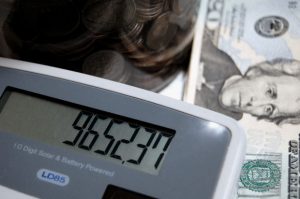 Nearly every type of business will find themselves in a position where they are required to send out an invoice at one point or another. Some businesses send out customer invoices on a daily basis, while others may only do it once a week or less.  No matter what line of work your business performs, chances are you'll need to send out invoices periodically. Instead of doing it by hand, you should should consider using Intuit Quickbooks to perform the job for you. It's a simple and effective tool to create high-quality, professional invoices in no time at all. Keep reading and we'll walk you through the process for creating invoices with Quickbooks.
Steps To Creating an Invoice
When you are ready to get started, fire up your Quickbooks account and click the "invoice" tab at the top of the screen. From here, you'll need to select a template from the drop-down menu. This is done to keep your invoices uniform and looking the same; otherwise, different customers may receive different looking invoices. Once you've located the preferred template, click it and move on the next steps.
After selecting the invoice tab and template, you should now be promoted with a field asking you for the customer's name. If they are a new customer, you'll have to enter the name in manually. However, return customers will have their names pop up as you type it into the field. Either enter the new customer's name into the box or select it from the given names and continue to the next step.
You should now be promoted with a box asking your for the type of invoice you wish to create. You'll have the option of choosing product, service or professional. Choose the one that best fits the invoice and continue answering the given questions. Some of the information you'll be required to enter include the number of invoices, amount, rate, etc. Double check all of these entries to ensure they are correct. You don't want to end up sending an invoice to a customer for the wrong amount.
Before printing the invoice, you'll be asked to enter an optional message to the customer. This isn't required, but it's helpful if you need to address certain issues to the customer regarding the invoice or price. Once you've entered in this information, go ahead and click the print button. Congratulations, you've just created your own invoice using Quickbooks!
Because of it's ease of use, Quickbooks has become one of the most popular types of accounting software on the market. It makes handling all of your company payroll and accounting a breeze, even if you have no previous experience in dealing with these issues. Two of the most popular types of Quickbooks are the "Pro" and "Premier" products, both of which offer their own unique advantages. If you are interested in using either one of these products, keep reading for a more detailed comparison.
Quickbooks Pro
The first product we'll talk about here is Quickbooks Pro, which starts at $249.95. As the name suggests, this is a product version intended for medium to large sized businesses who require more than just the basic features. If you are running a small business, you might be able to get away with using the online version of Quickbooks Plus, which is just $39.95/month. It's a much cheaper solution, but it doesn't come with all the features and abilities of Quickbooks Plus.
So, what kind of features does Quickbooks Pro offer? In short, it allows you to manage employee payrolls, track sales, print and pay bills, track expenses, create invoices, send emails, use the Quickbooks Search to easily find past invoices and documentation, handle receivables, invoice multiple customers at once, scan and deposit checks from the comfort of your computer, track time, and much more…
Quickbooks Premier
A more complete version of Quickbooks is the Premier package, which starts at $399.95 for the desktop version. As you can see, it's a substantial increase in price from the previous version. Is Quickbooks Premier worth the price? There's no easy answer to this question, as it really depends on your specific accounting needs. Quickbooks Premier comes with all of the same features as Quickbooks Pro but with some additional items. Let's take a look at what the extras are with this all-inclusive Quickbooks package.
One of the greatest advantages to using Quickbooks Premier is the ability to use their Inventory Center. This neat little tool allows you to easily locate inventory tasks from a single user interface. Quickbooks Premier also has the business plan feature included. Using this tool, you can plan out your business endeavor and even forecast your upcoming sales and expenses. While there's no way of telling exactly how much money your business will spend in the future, the tools offered with Quickbooks Premier will estimate your future spending based on based amounts.
Bank and financial reconciliations are an important part of managing a Quickbooks account. Whether you operate a small, medium or large-sized business, you'll need to perform reconciliations to ensure all the transactions are correct and everything is setup properly. No matter how hard you try to prevent it, accidents and typos are bound to happen. The good news, however, is the reconciliations are designed to find and fix these common problems. Keep reading and we'll go over some simple tips and tricks for reconciling your Quickbooks account.
First, let's go over what exactly reconciliations are used for, as some people are hearing this term now for the first time. In short, it's a process similar to balancing a checkbook. You'll check the balance on your Quickbooks account to the balance on your bank statement to see if they match. If they match, you know everything is correct and entered in properly. On the other hand, a mismatching balance is a sign that something isn't right, and you must go back to find out what's causing the two numbers to be off.
Tip #1 – Using The Reconciliation Feature
If you've never reconciled a bank account through Quickbooks before, you might be surprised at just how easy the process is. Before you start, though, you'll need to have access to your most recent bank statement. Next, launch your Quickbooks account and click the "Banking" tab at the top left corner of the page. From here, you can select "Reconcile" to start the process. It's literally that easy to start the reconciliation process of a bank account through Quickbooks.
Tip #2 – Check Balances First
The very first thing you should do after starting the bank account reconciliation process is to compare your balances. Check the balance on your Quickbooks account to see if it matches with the balance on your bank statement. Hopefully, it matches up and you can close out of the process. If it doesn't, however, you'll need to find out what transaction is causing the problem. Checking the balances first will make the reconciliation process ten times easier.
Tip #3 – Save The Larger Accounts For Last
When you reconcile accounts through Quickbooks, it's usually best to start with the smaller ones and gradually work your way to the larger accounts. Doing so will get some of the easier accounts out of the way first, allowing you to focus your time and energy on the harder accounts. Of course, some people may have their own preferred method, but I've found this is generally helpful when reconciling bank accounts through Quickbooks.